Despite Google's best attempts, Android-based tablets have always found it hard to prove themselves worthy competitors to Apple's iPad line-up. However, years of trial and error appears to finally be bearing some fruit, with Samsung's latest Tab S8 series promising a lot to be excited about. We've recently had the Galaxy Tab S8+ come in for review, and quite honestly this new tablet has impressed us from the moment we unboxed the device and started using it. 
It is a sleek piece of metal and glass, which hides beneath the surface some really powerful hardware. But as is the case with all tablets, the centerpiece here is the big, bold display which offers support for Samsung's most advanced S Pen. So let's start this review by giving you a better understanding of the panel and its performance in real life.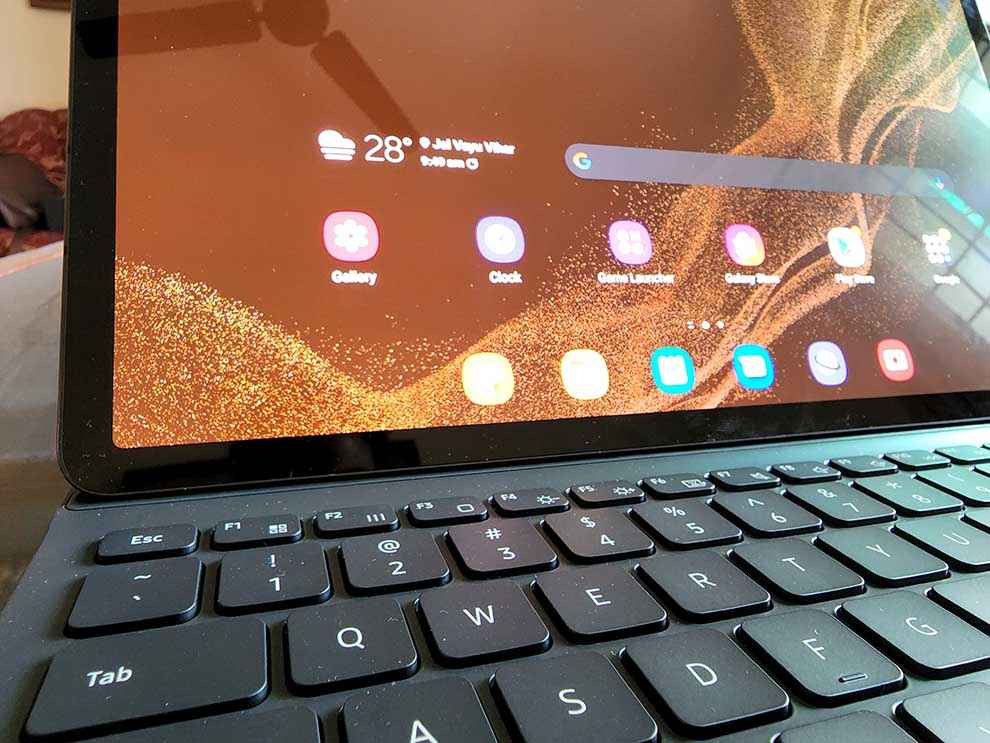 Samsung Galaxy Tab S8+ review: Design and display
The panel on the Galaxy Tab S8+ is 12.4-inches in size and AMOLED in make. It runs a fixed resolution of 1752×2800 pixels and is capable of touching a fast 120Hz refresh rate. The tablet also uses a familiar 16:10 aspect ratio for displaying content natively, and can also hit high peak brightness levels.   
In fact, it's one of the brightest panels you can find on a mobile device at the moment, one that can give many phones with smaller displays a run for their money with its performance. It offers punchy colours and deep blacks, with its overall performance similar to any panel found on a flagship Samsung phone or tablet.  
Offering a pixel density of 266ppi, the display ensures that text, videos, and images appear crisp and clear on the Galaxy Tab S8+. The panel also houses an in-display scanner for added security. We found this scanner to be quite accurate during our time with the device, with the scanner also being very responsive to touch.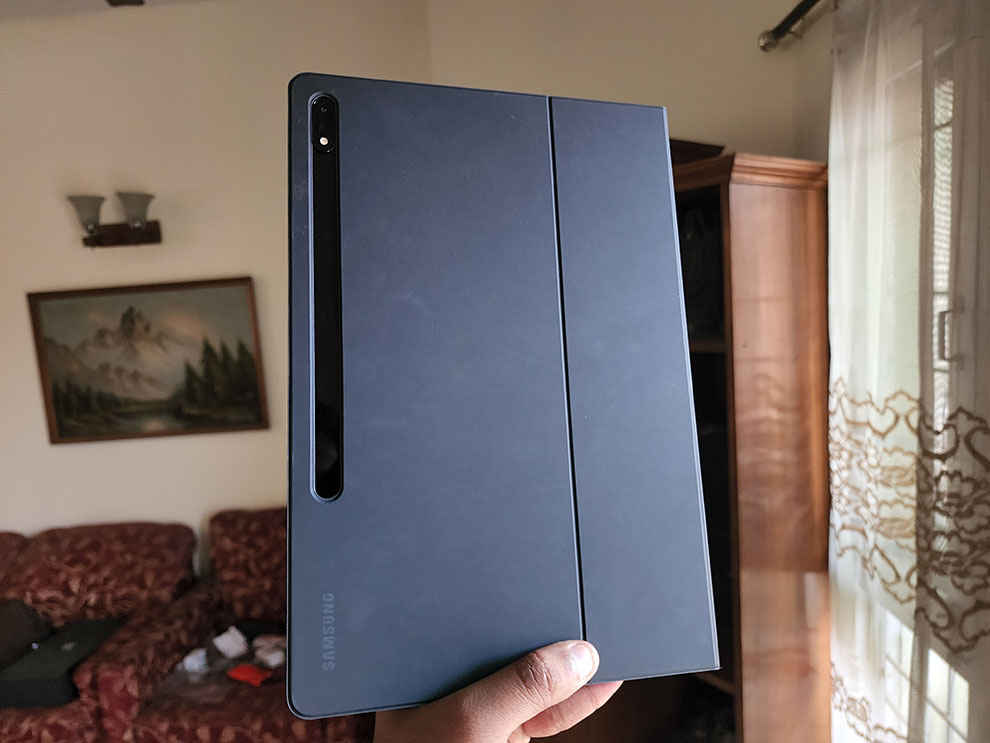 Around the display, however, is some amount of bezel, which actually is a welcome move as it makes using the device easier by minimising the chance of accidental touches. Apart from this, the front of the device also houses a selfie camera which is centrally located when the Tab S8+ is being used in landscape mode. 
The panel on the device rests nicely on a brushed aluminium slab which melts into the display to create a unibody design. There are no curves at the back, with Samsung focusing on keeping things simple by keeping the look very minimalistic. In fact, the design language has been kept so clean that only a small portion of the back has been used for Samsung and AKG branding. Yes, there are also antenna lines and a strip to charge the S-Pen at the back. However, they only add to the looks of the tablet. 
Apart from this, the tablet's sleek frame also houses a power button and volume rocker on the right of the device, with four AKG-tuned loudspeakers, also found on the upper and bottom end of the body of the Tab S8+. Overall, all these elements come together to create what looks and feels like a truly premium device the moment you lay hands on it, and this experience is only enhanced when you power up the AMOLED display that brings great tablet experiences to life.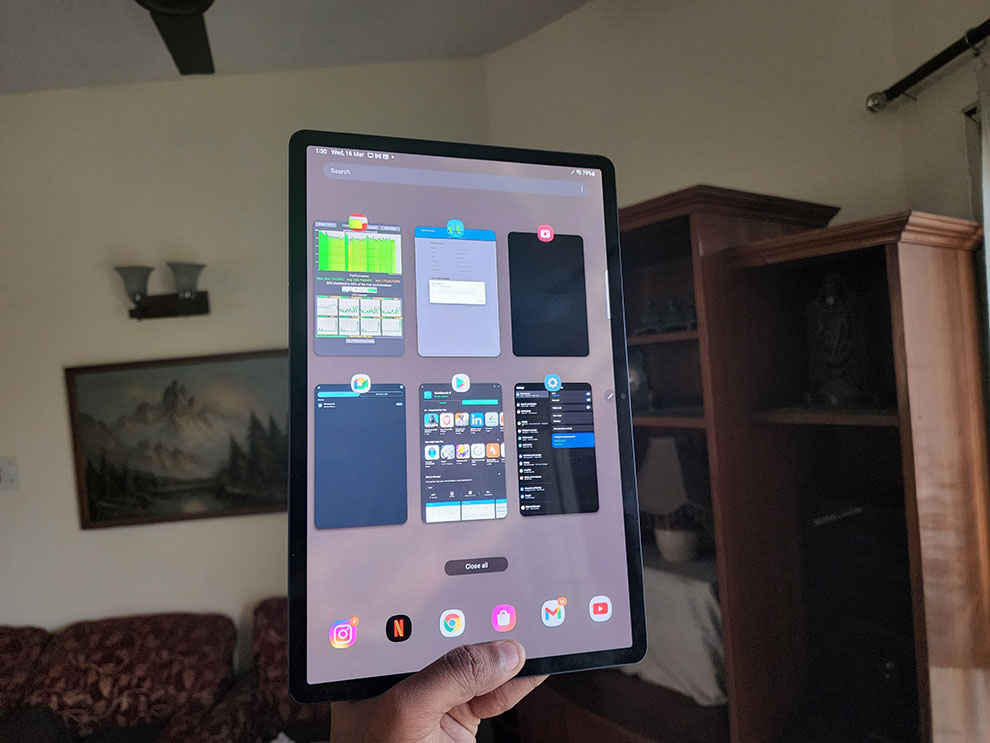 Samsung Galaxy Tab S8+: Performance and battery 
Much like other Samsung tablets before it, the Galaxy Tab S8+ is also powered by the most advanced hardware available for Android-based devices. As such, we get Qualcomm's latest Snapdragon 8 Gen 1 SoC under the hood which is paired with 8GB of RAM and 128GB of storage. 
The hardware ensures that pretty much all that you run on the tablet is handled without much stress. Apps of daily use including Instagram, Twitter and internet browsers perform as expected. In our time with the device, we noticed no signs of lag or stutters when using the device in the normal tablet mode — DeX, however, was a different matter altogether. This is because the DeX mode on the Galaxy Tabs still remains riddled with bugs. Aspect ratio to app resize and crashing issues, there is a lot that Samsung needs to fix at its end before DeX based tablets can take over Windows machines.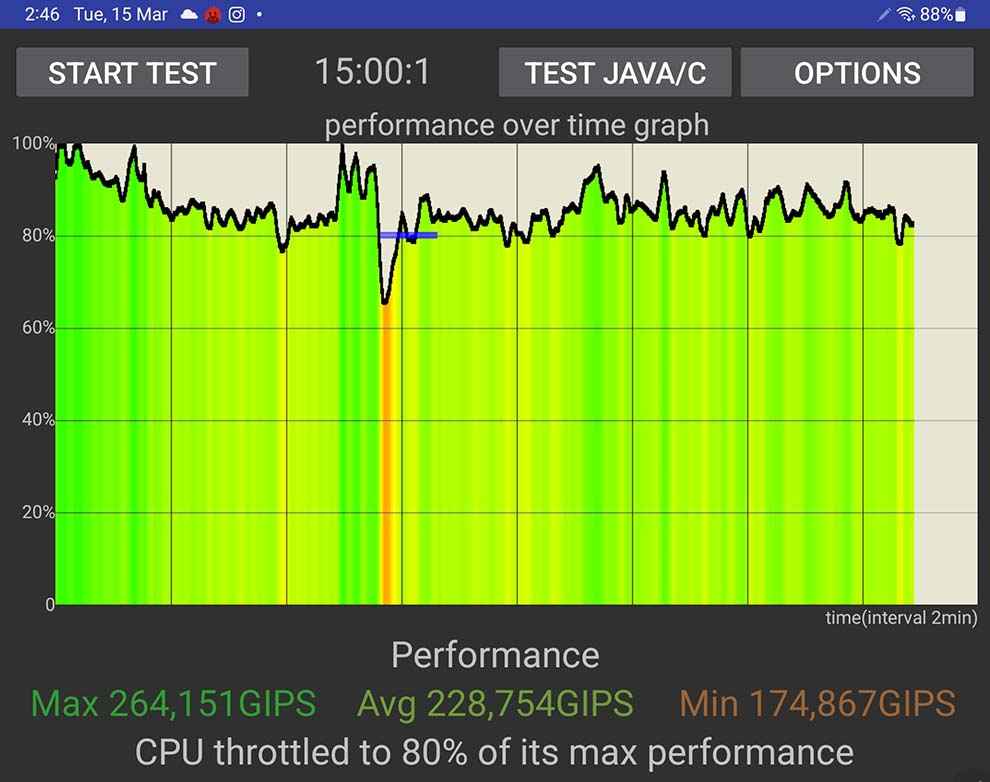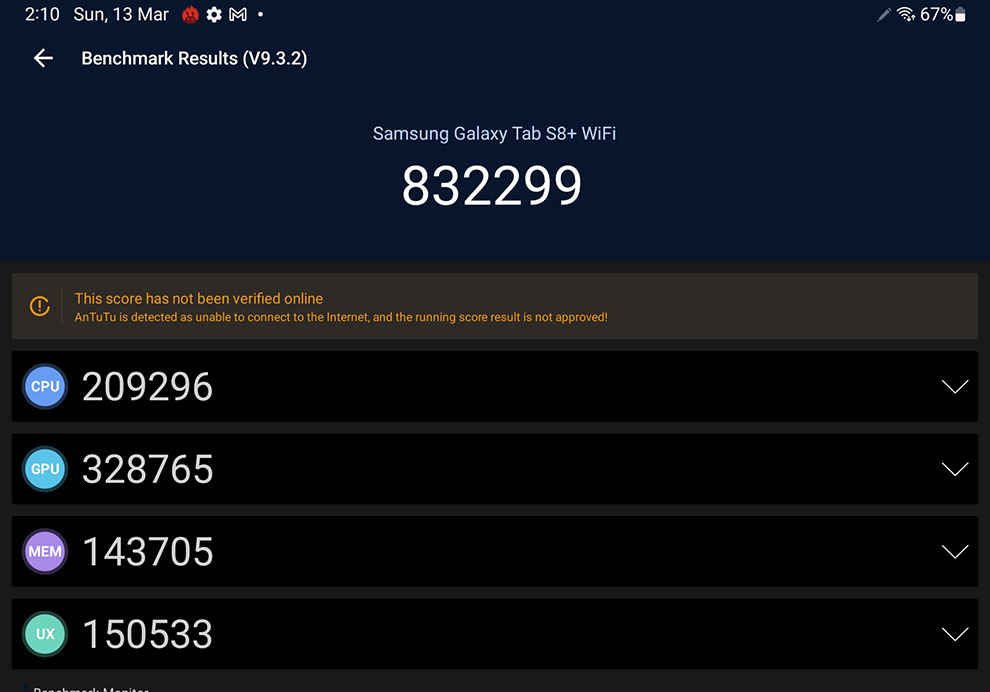 But like we said, outside the DeX environment, the tab S8+ gave us little to complain about, with the new tablet also doing well in games such as Call of Duty Mobile and Asphalt 9 Legends. However, in benchmarks, the performance was all over the place, with the results remaining unsurprisingly inconsistent. The results were inconsistent with what we've achieved on other Snapdragon 8 Gen 1 chipset-based devices, leading us to believe the issue is more to do with the chipset than individual devices. Having said that, when we lay the blame of the inconsistent performance on the chipset's door, we do so with the understanding that this could very well be an issue caused by an incompatible Android code — something that can be fixed with a software update in the future — rather than an actual design flaw in the chipset itself. 
Coming to the battery, the Galaxy Tab S8+ does not disappoint. In real-world usage, we found the tablet to easily give over a day's use even if you watch a lot of movies and stream shows on it. Gaming does bring the battery life down drastically. But for most users, the average run-time on a single charge for the Tab S8+ should be one day at least. And when the tablet does run out of charge, it offers support for Samsung's latest Super-Fast charging which promises to charge at 45W. However, the required charger is not included in the box. But luckily, the tablet is not using a proprietary standard for charging, so any charger with PD support can juice up the tablet at its high speeds. 
Galaxy Tab S8+ review: S Pen and more
No review of a Galaxy tablet can ever be completed without talking about the S Pen. And that's exactly the case for this review as well. Living up to tradition, the Galaxy Tab S8+ brings with itself the latest S Pen from Samsung, which now offers significantly reduced input latency — down from 9ms to just 2.8ms. The input lag is so low this time that interactions between the S Pen and the tablet's screen now feel more intuitive than ever before.  
While the S Pen may not be a useful tool for all users, it is definitely going to come in handy if you like to draw or take notes on your tablet. And with advancements in processing technology, it can now also be used to translate text. These, of course, are among the few use cases of the S Pen on the Galaxy Tab S8+. When you're not using the S Pen, it can attach magnetically to a designated strip at the back of the device. Interestingly, this also serves as the charging dock for the stylus. And if you're looking for more reasons to fall in love with the new S Pen, then let us remind you that it also comes with support for Air Actions and is also compatible with the Galaxy S22 Ultra if you happen to own one. 
In a bid to make the Galaxy Tab S8+ an, even more, productivity-friendly tool, Samsung has also launched a separate optional keyboard cover accessory which we're happy to report is better than ever before. It has a built-in kickstand, which now actually holds up the tablet much better than previous kickstands did. As we mentioned above, this keyboard cover accessory is being sold separately, which honestly is a shame, as we believe this should have been included with the Tab S8+ for free.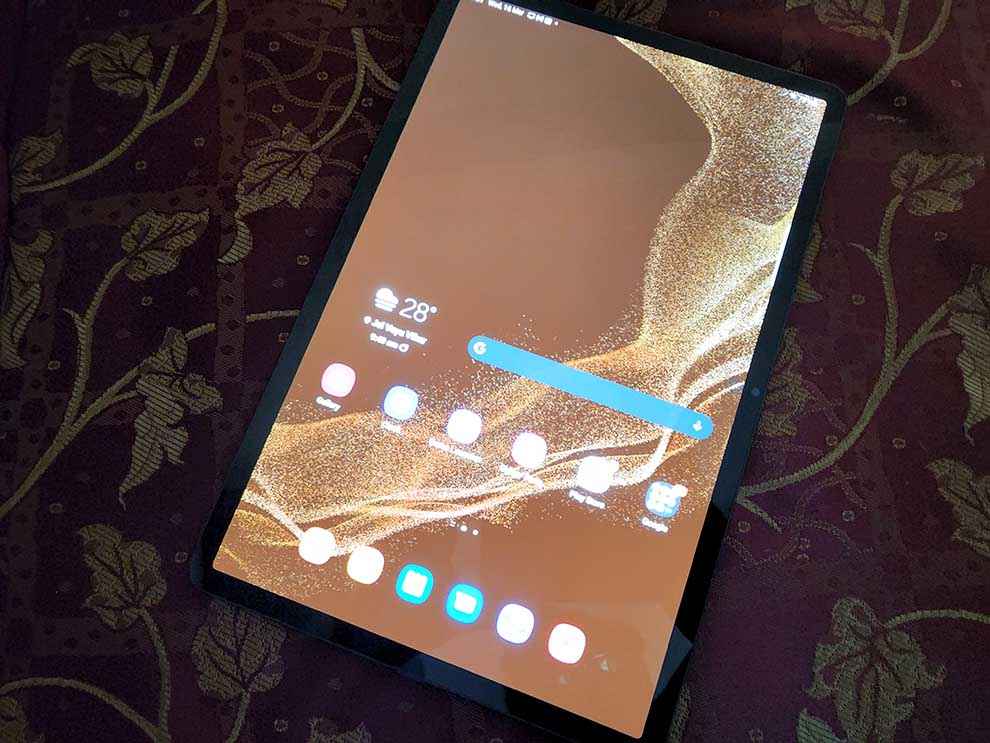 Galaxy Tab S8+ review: Should you buy it?
The Galaxy Tab S8+ is an interesting device. In my opinion, it is definitely the best Android tablet there is for most users. So if you're looking for a new tablet that's based on Android to complement your ecosystem of Android and even Windows devices, then the Galaxy Tab S8+ is definitely the device for you. 
But before you actually end up making the buying decision, the only question you'll need answering is if it's better compared to its elder sibling, the Galaxy Tab S8 Ultra. As things stand, the Galaxy Tab S8+ comes in at a more affordable price point than its older sibling, but still manages to offer a similar package in terms of hardware and feature set. 
Which in my view automatically makes it the better choice of the two. Yes, it has a slightly smaller display than the Tab S8 Ultra, but with the Tab S8+ sporting a massive 12.4-inch display itself, there is very little reason to think that most users will miss the extra real estate. Apart from this, you get all that there is to love about the new Samsung Galaxy tablets in the Tab S8+, making it a very easy recommendation for me.
(Except for the headline, this story has not been edited by PostX Digital and is published from a syndicated feed.)