A pair of prominent Republican senators co-opted yesterday's hearing on NASA's 2024 budget request by accusing the space agency of siding with Biden-friendly initiatives pertaining to climate change and diversity.
China's Plan to Land Astronauts on the Moon
The Senate Commerce, Science, and Transportation Committee got together yesterday to discuss NASA's fiscal year 2024 $27.2 billion budget proposal. Senators on both sides of the aisle grilled NASA administrator Bill Nelson on a variety of topics, but Senators Ted Cruz and Eric Schmitt largely ignored the big-ticket items and instead honed in on two Republican bugaboos: initiatives to combat climate change and investments in diversity, equity, and inclusion (DEI).
The duo levied accusations at NASA, asserting that the space agency has become overly aligned with Biden administration policies, thereby veering away from its longstanding nonpartisan foundations. "If NASA is seen as partisan, that is very bad for space and space exploration," Cruz, a Committee ranking member, said during the hearing, as quoted in Space Policy Online. "So I hope NASA will continue its tradition of staying out of those battles," he added.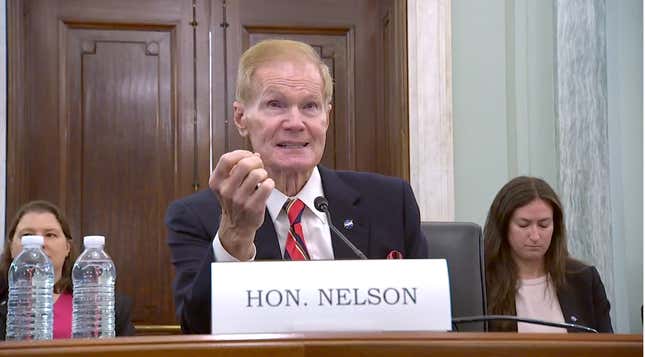 20% Off
LEGO Minecraft Rabbit Ranch House Farm Set
Adorable
This set comes with a tamer and zombie minifigure, the blocks needed to create a giant bunny house, and a couple of cute rabbits too. It also has a TNT, but we're pretty sure that's fake.
A new rule tabled late last year would require NASA's commercial partners to disclose greenhouse gas emissions and articulate reduction targets. Cruz said that, instead of helping the U.S. "win the space race," the proposed rule "would ensure that NASA could do less exploration and less science for more taxpayer dollars."
According to Schmitt, also a ranking member, NASA's $22 million budget request for an Office of Diversity and Equal Opportunity could influence the space race, resulting in China landing humans on the Moon before NASA is able to do so through its ongoing Artemis program. He said he "strongly" disagrees with NASA's "obsession with misguided woke policies related to climate change and diversity, equity, and inclusion." Schmitt said the U.S. must be "laser-like focused" in its approach, and that "China has no interest in out-DEIing us."
Cruz mirrored these sentiments, saying, should "we show up second at the Shackleton Crater, I highly doubt the Chinese Communist Party will care much about how we've advanced an 'Equity Action Plan,'" as he was quoted in Payload. Shackleton Crater is located within the Moon's southern polar regions, the desired landing site of NASA's upcoming Artemis 3 mission. Cruz and Schmitt both stressed the urgency by highlighting China's stated aim of sending humans to the Moon, emphasizing that the United States is once again engaged in a space race—a claim that Nelson himself has made on repeated occasions.
Nelson found himself on the other side of the table yesterday, as he previously served alongside Cruz on the Committee from 2013 to 2019. The NASA chief didn't offer deep dives into the Senators' questions, but to Cruz, he did say: "You and I in this committee have a different approach to what is happening to the Earth's climate," and it so happens that "NASA is in the middle of this." The climate initiative, Nelson explained, is still a draft currently in the comment phase, and it will also apply to the Department of Defense and the General Services Administration. He added that the draft does include a provision to waive the requirements for small businesses.
As to the claim that NASA is pandering to the Biden Administration, Nelson said the "reality, Senator Cruz—and you know I love you—is the fact that we have political differences, but I can guarantee you that NASA is being run in a nonpartisan way," as quoted in SpaceNews.
NASA, dedicated to advancing the frontiers of space exploration, wants to maintain a similar dedication to addressing the challenges of climate change and promoting diversity. It's a shame to witness these two Republicans attempting to drag the space agency back to the previous century.
For more spaceflight in your life, follow us on Twitter and bookmark Gizmodo's dedicated Spaceflight page.
(Except for the headline, this story has not been edited by PostX Digital and is published from a syndicated feed.)