Do I really want to mow the lawn by hand or will I finally buy a robotic mower this year? Thousands of garden owners ask themselves this question every year when spring comes around. With smart robotic lawnmowers, you can trade hours of backbreaking yard work, the smell of gasoline, and noise for free time (which you will most probably use to do something else to keep you busy, no doubt about it). NextPit helps you find the best robotic mower for your yard.
The mother of all questions: Do I get a robotic mower with or without a boundary wire?
Basically, there are two different classes of robotic lawnmowers: Robotic mowers armed with boundary wires and robotic mowers without boundary wires. Arriving at a decision mainly carries practical and financial implications.
Robotic mowers with a boundary wire are complex to set up. You have to lay a wire either on or just under the lawn and, if necessary, pull a second guide wire. This takes time and cannot be flexible. For example, should you decide to enlarge your lawn by removing a bed, you will have to lay the cable again. On the other hand, you have plenty of choices when it comes to robotic mowers that cost less than $1,300.
Robotic mowers without a boundary wire usually rely on cameras, GPS, beacons, or a combination of those to find their way around your garden. The setup is uncomplicated, and expanding the area to be mowed can be performed within a few minutes. However, robotic mowers without boundary wires are also significantly more expensive and you will practically be unable to find any models that retail for less than $1,300 at the moment.
You can jump straight to a selection from the respective product category below and to our general buying guide for robotic mowers.
Jump to:
Up to $1,300: Robotic lawn mowers with boundary wires compared
Robotic lawn mowers with boundary wires up to $1,300
Product
Gardena Sileno City 600
Husqvarna Automower Aspire R4
Worx Landroid WR165
Bosch Indego S+ 500
Rating
Gardena Sileno City 600 review
Not yet reviewed
Not yet reviewed
Not yet reviewed
Image
Area
Maximum slope
Noise level
Battery life
GPS
Connectivity

Husqvarna app
Bluetooth
WLAN

Landroid app
Bluetooth
WLAN

Other functions

Mowing scheduling based on the weather forecast

Dimensions (L x W x H)

21.6 x 15 x 9 in
55 x 38 x 23 cm

21.6 x 13 x 8.7 in
55 x 33 x 22 cm

23 x 16 x 8.2 in
58 x 40.3 x 20.8 cm

18 x 14.2 x 8 in
45 x 36 x 20 cm

Weight
MSRP
$1,100
Offers*
Unavailable
At NextPit, we're in the process of talking about robotic lawnmowers in greater depth, so please bear with us as we haven't reviewed many of these home improvement tools to date. Among the robotic lawn mowers with a boundary wire that we have reviewed, only the Gardena Sileno City 600 (review) left a positive impression on us apart from the principally laborious setup.
The other three models in this comparison all rely on a cable for navigation and offer WLAN and Bluetooth for connectivity. While the robotic mowers from Gardena and Worx are also suitable for hilly gardens, the models from Bosch and Husqvarna feel more at home on flatter terrain.
Have we forgotten an important model? And which robotic mower should we definitely review next? Let us know in the comments!
From $1,300: Robotic lawn mowers without boundary wires compared
Robotic lawnmowers without boundary wires from $1,300
Product
Ecovacs Goat G1
Segway Navimow H500E
Worx Landroid Vision M600
Rating
Not yet reviewed
Not yet reviewed
Not yet reviewed
Image
Area
Maximum slope
Noise level
Battery life
GPS
Connectivity

Landroid app
Bluetooth
WLAN

Other functions
Dimensions (L x W x H)

23.7 x 18.5 x 10.4 in
60.3 x 46.8 x 26.4 cm

24.7 x 10.5 x 18.2 in
62.6 x 26.5 x 46.0 cm

Weight
MSRP
Offers*
This category of robotic mowers without boundary wires is still relatively new, at least when it comes to private use. Basically, there are still a few models that are available on the market and these devices are very expensive; coming with their own limitations as well.
The Worx model, for instance, relies on a lawn sensor for orientation and thus drives over everything that it recognizes as a lawn. In addition, a camera is also installed to detect obstacles, just like in the Navimow H500W from Segway. Only the larger Navimow models starting with the H800W also offer an integrated GPS module.
Finally, there's the new Ecovacs Goat G1, which will only go on sale in the coming weeks. It relies on GPS and beacons for navigation, as well as a camera for obstacle detection. We have already received our review unit of which you can read a detailed review in the coming weeks on NextPit.com.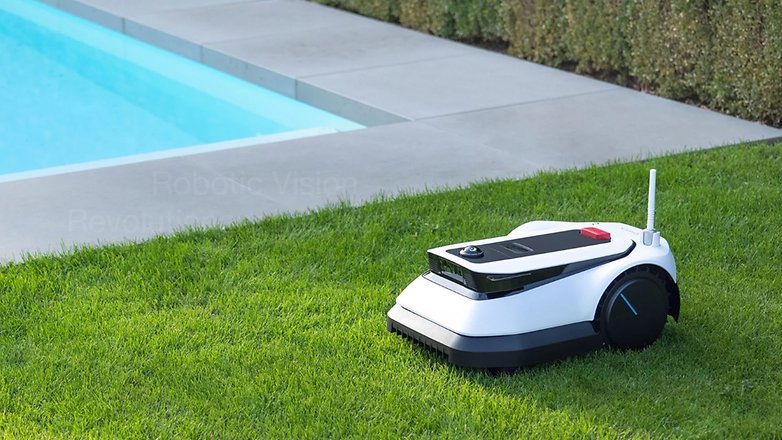 Buying advice: What's important in robotic lawnmowers
Reasons for buying a robotic lawn mower instead of a conventional lawn mower are obvious, especially when you own a larger garden. These robots not only save you time but are also usually cheap to maintain despite the high initial cost. Of course, operating costs also depend on the price of electricity, but they are usually no higher than traditional lawnmowers which also require electricity or even gasoline to run.
In the case of gasoline, there are the added advantages of lower emissions and not having to burn fuel to keep your garden looking great, even though the electricity you use often does not come from a renewable source, either. There is also the advantage of not having to smell gasoline in the house and a final, very important aspect: noise.
Gasoline-powered lawn mowers can produce a volume of around 85 to over 100 decibels, which can not only damage your hearing if you're not wearing protective gear but also ruin relationships with your neighbors. Robotic lawnmowers, on the other hand, often have a noise level of about 60 dB, which is comparable to a normal conversation.
Battery life and area
If you don't have a garden the size of a soccer field to mow but rather, a city garden, the vast majority of robotic mowers should be sufficient for you. Most models can mow a lawn area of at least 4300, 5400 square feet (400 to 500 m2). If you do happen to have a large field to mow, you can normally find models with a longer range in the manufacturers' product families.
There's also another factor to consider especially for narrow gardens: to check whether the set boundaries and the placement of the charging station allow the robot to work properly and return to the dock. Narrow hallways, for example, can restrict the robot's movements, so do refer to the machine's owner's manual to see what the minimum widths are when setting the boundary.
Maximum incline
One limitation that might concern some buyers is the maximum incline that the lawn mower can handle. If your yard has slopes, the robot may not be able to climb them safely, so be sure to check the terrain capability before you buy. Steep inclines can be avoided using the boundary wire, but then you will have to do it yourself. Alternatively, you can always build a boundary from concrete.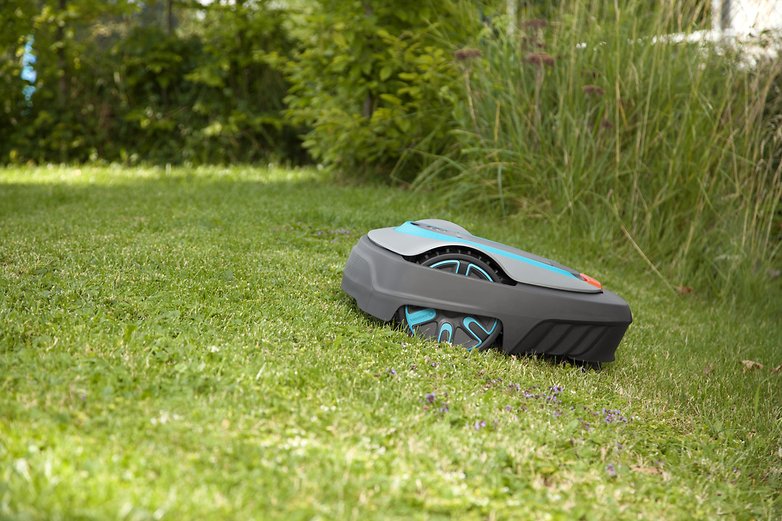 Safety features
When working outdoors, the expensive lawn mower is also exposed to a risk of theft. That's why many models have anti-theft features such as a PIN code or an alarm that goes off as soon as the robot ventures outside of its confined area. Some models can even be equipped with an optional GPS locator that connects to mobile networks to locate and lock the device. The Goat G1 is one such example with built-in GPS.
Smart features on most robotic lawnmowers include collision sensors that not only prevent collisions with pets and obstacles but also lift sensors that prevent accidents when someone lifts the robot. After all, rotating blades can be dangerous. Some robotic mowers also offer safety features to protect animals via object detection by using an integrated camera or through a recommendation in the app regarding pet-friendly mowing times (definitely not for use at night!).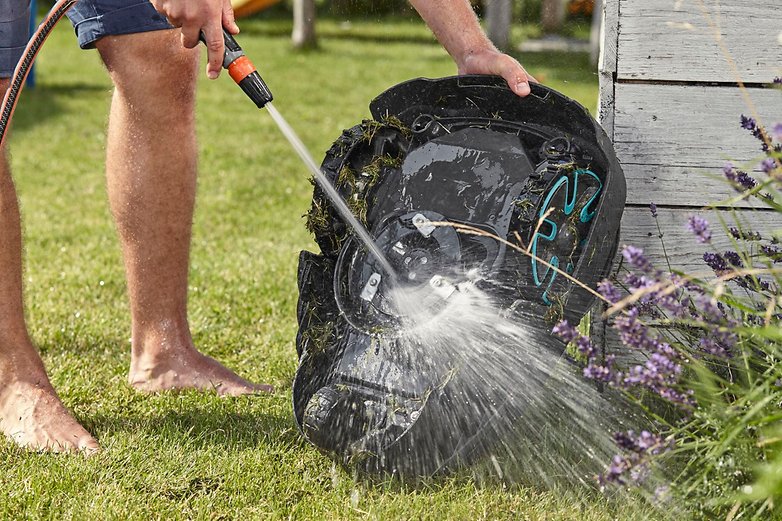 Care and maintenance
Even though robotic lawnmowers can work on rainy days, some experts advise against mowing wet grass and recommend turning the device off. Also, most manufacturers suggest regular cleaning to remove grass clippings and debris from the blades.
Be sure to check the owner's manual to find out if the unit can be cleaned using a hose or high-pressure washer. High water pressure can also cause water to penetrate sealed housings and damage the electronics inside. Make sure charging contacts are clean as well to avoid extended charging times and excessive energy consumption.
Also, review the recommended steps for mothballing the robot during the winter. These typically include thoroughly cleaning the unit, charging the battery, turning off the unit, and storing the robot in a dry place. In particular, a dead battery is critical, as this is where the cells age rapidly.
Also remember that there are probably some areas that will need to be mowed without the robot, such as areas around the edges of the perimeter zone, around some obstacles, or around steep slopes.
That's it for our quick guide to robotic lawnmowers. Are you interested in this product category? Are you expecting more "smart" features in this area? Let us know what you think in the comments. If you're looking for more ways to make your garden and home smarter, check out our other guides!
---
Article updated in March 2023 with new picks and categories.
(Except for the headline, this story has not been edited by PostX Digital and is published from a syndicated feed.)