Just how good is the iPhone 14 Pro's camera prowess? Digit's Test Centre has had no qualms in hailing Apple's iPhone as the de-facto video benchmark for gauging every other smartphone's video chops for the better part of a decade. Circa 2023, the time has come for even the best in Bollywood to stake their reputations on the iPhone's video capabilities. 'Fursat', a sci-fi time-travelling Bollywood-style musical by acclaimed filmmaker Vishal Bhardwaj and starring Ishaan Khattar and Wamiqa Gabbi, is the latest proof of this endeavour.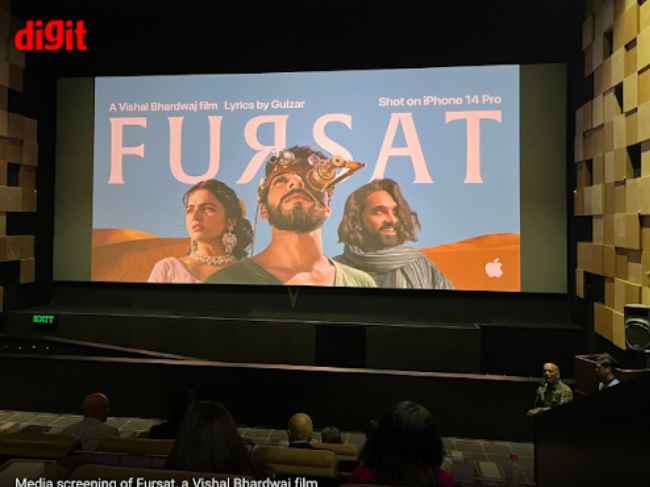 Far from a hobbyist or amateur production, and certainly, beyond any of Apple's iPhone video ads, Fursat is Bollywood's first non-commercial movie shot completely on an iPhone — the iPhone 14 Pro — and produced entirely by Apple India. It's a homage to the iPhone 14 Pro's cutting-edge video capabilities, performing at the highest levels of filmmaking in all its unrestrained glory. 
In fact, the iPhone 14 Pro is the invisible star act of Fursat, which helps bring the Bollywood experience to life, not only matching up to the rigorous demands of award-winning film director Vishal Bhardwaj but surpassing all his expectations of what he thought an iPhone 14 Pro was capable of achieving.
"It's frankly unbelievable what this tiny handheld gadget that can fit inside your pocket is able to capture through its camera," said Vishal Bhardwaj, at a special media screening of Fursat in Mumbai. "As a device, it's taking you out of the limitations which we had when we were growing up. We didn't have the luxury which iPhone is providing every budding filmmaker today," he further emphasised.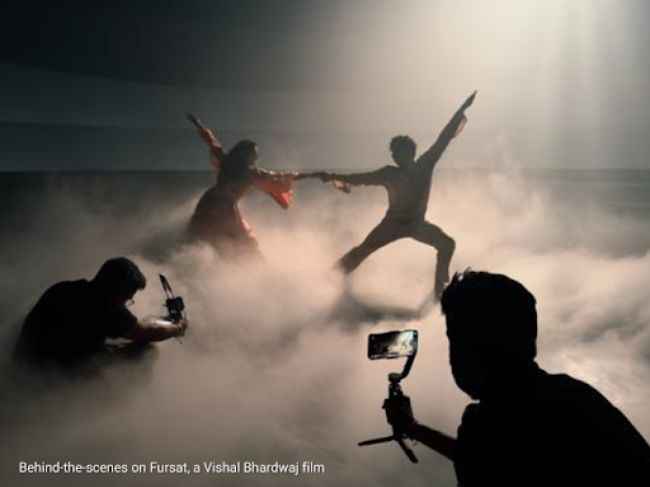 Apart from the iPhone 14 Pro's overall stellar video capture experience, both Vishal Bhardwaj and Swapnil Sonawane, director of photography of Fursat, were blown away by the iPhone's Action and Cinematic modes. Fursat's opening sequence shows Ishan Khattar furiously sprinting through an old, tiny market alley – not unlike Aladdin running through the streets of Agrabah – crisscrossing through a maze of street sellers and pedestrian traffic. It gets your heart pumping instantly, where Swapnil Sonawane's behind-the-lens artistry truly shines, but he humbly credited the scene's excellent cinematography largely to the iPhone 14 Pro's camera. 
"I didn't know how much the iPhone could handle, but the way it did was just fantastic," said Swapnil Sonawane, who did remarkable work on Netflix's Sacred Games, among other several claims to fame Bollywood projects. "I think Action mode is the most amazing update. For the iPhone 14 Pro to be held in your hand and run with all your might looking at the actor, one can get extremely steady shots, without an external gimbal," he said of how he captured the running sequence of Ishaan Khatter in Fursat. Of course, we all know Action mode supports up to 2.8K resolution and 60 fps with Dolby Vision or ProRes recording to allow for uncompromising video shots.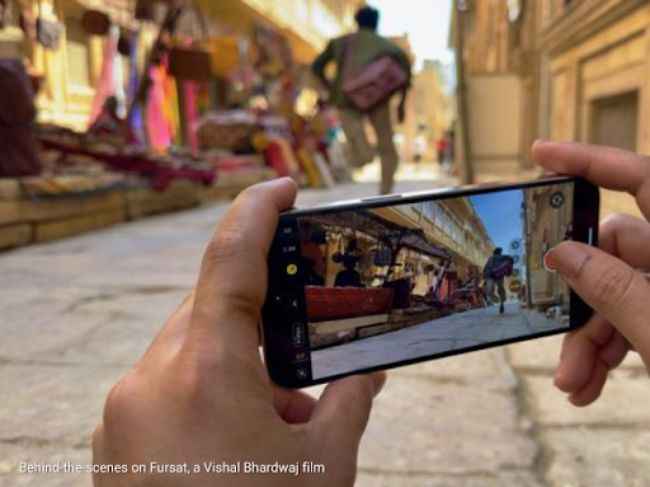 In another seminal ensemble scene of Fursat, shot entirely in a train compartment, where all three protagonists of Fursat are face-to-face, the iPhone 14 Pro showcases its Cinematic mode, with a beautiful depth-of-field effect and automatic focus changes to the video in 4K at 30 fps. "The way Cinematic mode shifts focus is the way the focus puller would, it's an emotional shift focus, which is what was absolutely beautiful about it," Swapnil Sonawane emphasised about the iPhone 14 Pro. 
Even Digit's Dhriti Datta writes about these two new video modes in her review of the iPhone 14 Pro Max and its overall video quality as follows, "The video quality is the absolute best in the business on the iPhone 14 Pro Max. The footage captured is smooth, true to life, has great dynamic range, and looks professional."
Apart from Action and Cinematic modes, there are some macro and wide-angle shots, showing the full repertoire of the iPhone 14 Pro's camera. Despite it being an ode to the iPhone 14 Pro, all said and done, Fursat is quite enjoyable – it's a Bollywood-style musical full of songs and dances with an emotional love story at its heart, accentuated by elements of science-fiction and time travel. What's not to like? A short and sweet tour de force by Vishal Bhardwaj, if anything the 30-minute playtime of Fursat feels a bit too short.
Ready to see what the future of filmmaking looks like? You can watch Fursat movie for free on YouTube.
Read Digit's review of the iPhone 14 Pro Max.
For more
technology news,
product reviews, sci-tech features and updates, keep reading
Digit.in or head to our
Google News page.
(Except for the headline, this story has not been edited by PostX Digital and is published from a syndicated feed.)